Bella Sara trading cards
Client: The Bella Sara Company
Website: http://bellasara.com
Timeframe: 2006 – 2012
I have worked with Gitte for almost 7 years on her Bella Sara project, and it has been an incredible journey! I have illustrated more than 100 cards by now, and it has definitely made an impact on me.
It has been a pleasure to evolve with the project, and to be able to realize my dream about illustrating towards children. This is a small selection of the illustrations I have made for this amazing project.
Testimonial: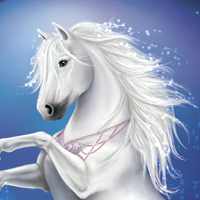 The first time I contacted Anita, to talk about drawings for my Bella Sara project, I was very positively surprised by the profesionalism and energy I was met with.
We have worked together for almost 7 years now, and it has been a pleasure, every time we start on a new series.
Anita is an amazingly carefully, detailed and skilled illustrator. She has through the years been able to deliver all we have needed; drawings of horses, people, fairies, other interesting characters, castles and beautiful nature backgrounds.
Anita is very flexible in the cooperation, which have been of significant importance to us. She has always met the deadlines, and also been able to deliver earlier in urgencies.
We have worked together with illustrators from all around the world, and Anita is clearly one of our best illustrators. It's not without reason that she has illustrated our front figures Bella and Sara several times. I have experienced an empathy and a commitment beyond the usual.