The Lonely Snowflake is the title of the first book I've created with Patrick S. Stemp.
Together Patrick and I have set out on an adventure; We'll be creating high quality children's books.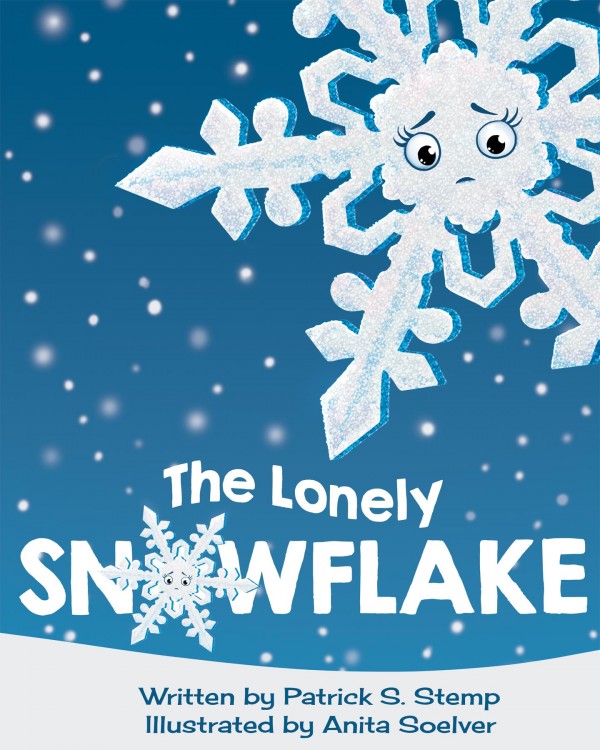 Earlier I was hoping to be traditionally published, but the more I learn about how little authors are getting from their traditional publishing deals, the more I want to control my own faith. I don't want to give up all my rights. Not now, anyway. Perhaps I will one day, things change, after all, but right now, I want to control every aspect of the books I'm creating, whether it's just me or in partnership with someone else.
Of course, self-publishing is a lot of hard work. There's no easy-button. No one will take care of all the small details, format your books, make sure that the print is looking just right, or that the font is readable on an e-reader. No one will publish it for you, advertise it for you, get it into book stores and libraries. In fact book stores and libraries are extremely hard to get into as a self-published author, but that's a story for another day.
But I'm not scared by all of this. I'm thrilled to have control.
If I fail, it's my fault. Not the publisher, not a client. Just me. I can make my own luck, and won't have to depend on others doing it for me.
So how did I end up here, publishing my first book with Patrick?
Both Patrick and I have been hanging around in self-publishing circles for more than a year, both plotting and planning our own adventures into self-publishing. We both wanted to learn as much as possible before jumping in ourselves. And so many awesome authorpreneurs are sharing their knowledge with us online every week.
I met Patrick during the Fiction Unboxed Kickstarter campaign in May 2014. Patrick stood out fast from the big crowd along with a handful of other awesome people. We talked in the comments around the web, on Google+, then a bit in email. I created the avatar for the To Be Read podcast for Patrick and his co-hosts for their new podcast, and I have since watched every single episode of that show during the first year – and they're still going strong (you should check it out, if you like to read books). We kept talking. Patrick talked about us working together at some point, but we were both busy, and time passed by.
Then in January, Patrick wrote me again. This time for more than chit-chat and catching up. It was a long email, filled to the brim with ideas of stories, things to do, projects to create. I got so excited reading that long email. He offered that I could grab all the ideas and run with them, if I wanted to, or we could do something great together. And since I'd been planning a lot and doing very little, it would be plain stupid to consider anything else than going into a partnership and start moving things along for real. To stop planning, and start doing.
We brainstormed a ton of ideas in a very short timespan, everything from domain name for our new joint venture over story ideas to the business aspect of a partnership.
In February we had the first version of our website up and running: Frogburps.com was a reality.

From the notion of "Perfect is the enemy of done", we decided to go with the website as it was, and work on it along the way. And we have. It haven't changed in any big way since then, but every week we tweak a little, work on something new, add something to the site.
We constantly talk about what we are doing, what we're planning to do and where we're going. We're now communicating in Slack, which is way better than email. Easy to search through conversations, find stuff we talked about. And we do talk a lot. More than 5,000 messages have gone back and forth since January. Five thousand messages! Imagine keeping track of that in email. Sheesh!
But we do more than talk. We create books!
We started the first one in January, and by the end of March, we published "The Lonely Snowflake". It was sort of nerve wrecking to do so, but awesome at the same time. We added the book to Amazon's KDP select, because we figured that it could linger there, while we figured out how to publish to all the other platforms, how to create epub files, how to make a paperback etc.
But because we're totally awesome, we managed to publish a book more before Snowflake was done in the 90 day exclusive period in KDP Select. And that book is available on multiple platforms and in a paperback versions. I created videos of the process of creating that one, made coloring pages etc. Amazing how much you can accomplish, once you decide to actually DO it, instead of just talking about it. And just last week, Snowflake was sent out into the big world on other platforms.
You can pick it up here:
Amazon
CreateSpace
Kobo
Inktera
Scribd
Curious? Want to know more?
Join the Frogburps newsletter right here and get our second book for free.